Medium in New York
I finally succeeded in getting my sis out here to visit, and just in time for our Thanksgiving festivities, nonetheless. Score! Here she is, waiting for the JMZ in Williamsburg at the top end of our Tuesday adventures...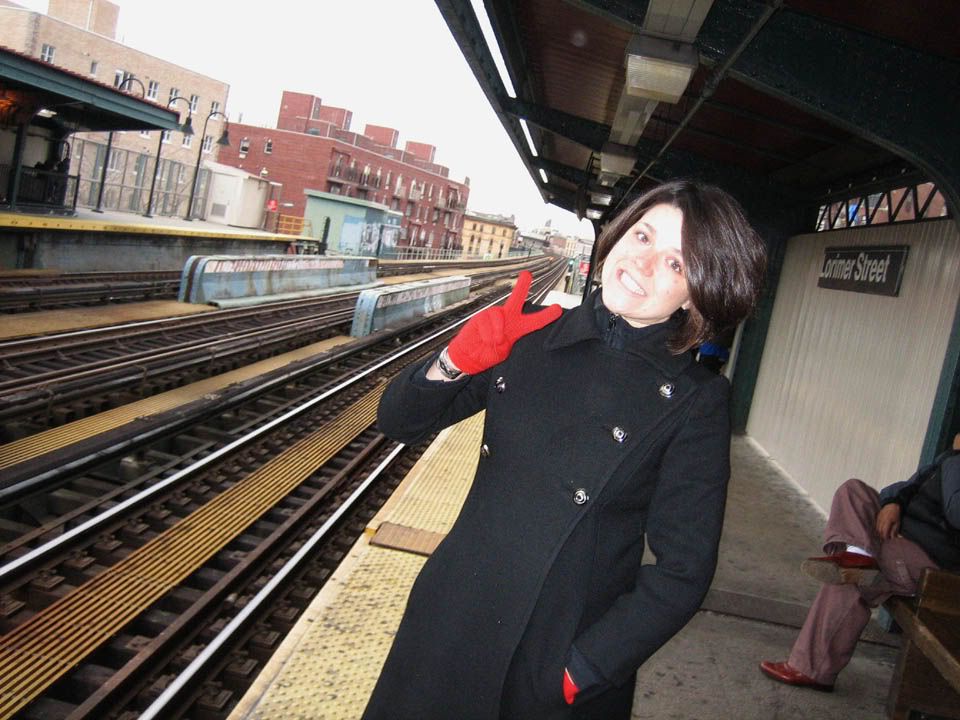 Moments later, we jumped on the tracks and danced around madly as the train bore down upon us, then were yanked back onto the platform by several surly MTA cops, who put us in a van and took us "downtown" for a "chat with the man." Thankfully, The Man understood, as he happens to be an avid track dancer as well, and let us go with a wink and a slap on the wrists.

Despite our brush with fate, we still had plenty of time to get down to the bid-ness of the day, which meant exploring Chinatown in the rain, in an attempt to fuel the Asia nostalgia of the E-Luth (successful, I believe). I always love poking around Chinatown and the ever-shrinking strip known as Little Italy, even on a rainy day. It has so much wisdom to impart on us simpletons; in a mere afternoon, one can learn:

Every shop seems to have at least one person who actually speaks English. Often times, it is only one person.
Real ginseng root costs about $500/lb. That is not a small number. Fortunately, it only takes 2lb to give you superhuman strength, x-ray vision, and Go-Go-Gadget arms.

Uma Thurman makes a damn fine action figure/statue.
Coffee "Hong Kong Style" seems to mean "strong coffee with evaporated milk." It's actually pretty good for the first half of the cup.
A big bowl of Pho for lunch/mid-afternoon-snack on a cold, rainy day is about the best ever.
If ever you dreamed of eating at a restaurant called, "New Big Wang," your dreams need exist only in dreamland no longer.
Little Italy is just a bunch of restaurants. These days, at least.
And that's how it goes. Friday, we will attempt the "Five-Borough Blitz." Yeah, what it is. No matter what happens, you'll read about it here.