Trav'ling Man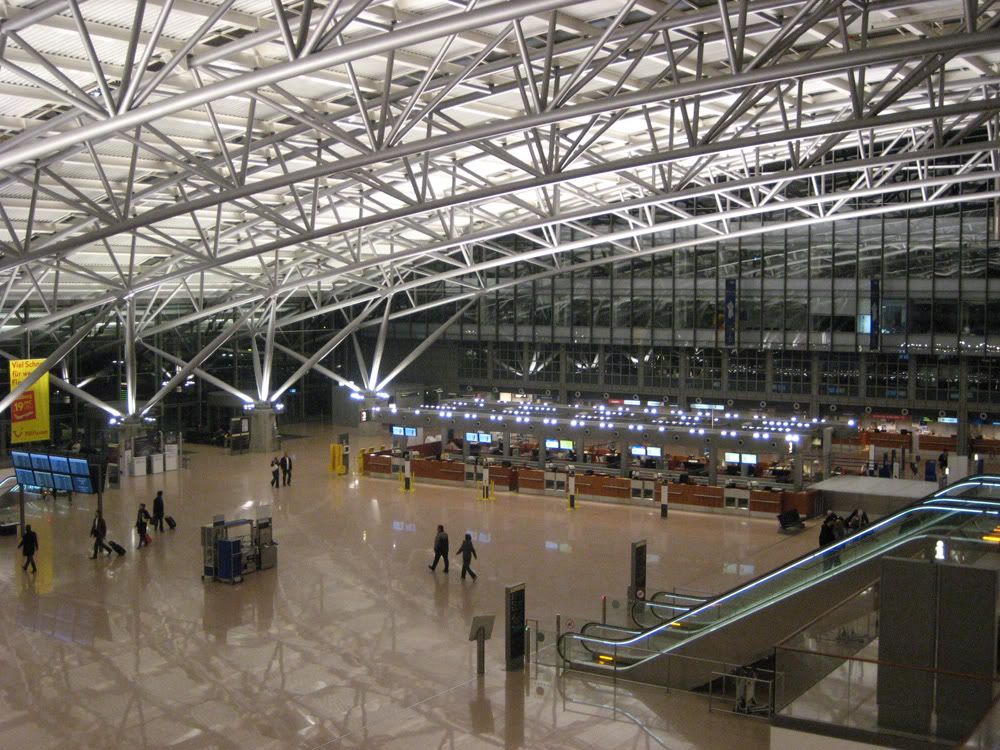 An international airport at end of day Sunday can be one hell of a lonely place. Though architecturally curvy and modern and semi-fascinating, you could've heard a pin drop at good old Fuhlsbüttel as I sat at the bar, its solo patron, and tossed back one last pils before launching off to London. I wouldn't claim that I every really enjoy airports at any time, but there's an optimal density of travelers for which they've been designed. When the proper number of people are flowing through the space, it has that happy, resonant feeling, something akin to cruising down a highway in an Audi doing 80, or finally settling into the 3rd mile of a run. More people than that, it's chaotic and stressful; less, it's sad and lethargic.

This was my first time flying with EasyJet. I got to hand it to those budget airlines, they keep the bullshit to a minimum. Though I wasn't exactly standing vigilant with a stopwatch, I believe it took just under 40 minutes for our aircraft to pull up to the gate in Hamburg, deplane, board our flight, and depart. Seems that's pretty good timing for any airline. The fares are shockingly affordable, as long as one books early (which I did not do) and travels light (which I did do, finally). A previous flight with Ryan Air taught me the pains and expenses tacked onto one's travel experience if they choose to travel with a musical instrument AND a checked bag. Double hell. This time, it's light and easy: one small duffel and a computer bag. I could get used to this...

Though being an American in Europe these days has its obvious drawbacks, it has a few perks, perhaps the most appreciated one being passport control following a channel-jump. After deplaning, one finds themselves in one of two lines at customs: EU Passport Holders, and Non-EU. When the Non-EU line sports ten people as opposed the to the several hundred in other, my citizenship gives me a happy feeling. Of course, one then buys a train ticket to London for £9.20 and realizes that they just dropped almost $20. The pleasure fades.



A train from Luton takes about an hour during the late-evening hours of Sunday and terminates at the newly-refurbished St. Pancras station. I believe I was here in October when it opened, boasting the new EuroStar service which links London and Paris in a stupidly small yet almost reasonably priced amount of time. It's quite a beautiful space, ethereal in quality and somehow lacking in the depth of loneliness felt in the Hamburg airport, even when just as empty. Though the largest contributor to the ethereal effect may be simply a blue paint job on the steel trusses and clever lighting, it feels good. Job well done. It's worthy to note that I already have a predilection for the generic European train station, with vaulted, trussed-and-skylit canopies shielding a rank of tracks. Though arguably no more than glorified poll barns, I love them. They're open, bright, airy, grand, and smell of travel. Each major city here has multiple; New York offers only Grand Central, indisputably beautiful, yet comparatively dark and subterranean. Penn Station need not be mentioned.

I was slick enough to catch the last Victoria Line tube of the evening with seconds to spare, which involved a mad dash down hallways, stairways, and escalators, and still manage to snap a few pictures of the station. £4 took me to my destination of Seven Sisters, and the journey was complete, bringing the total for the trains to almost $30. If I compare it with the $7 it would take to get from JFK to my Brooklyn flat, I cry a little. So I'll compare it instead with the $35 cab ride for an equivalent, think fondly of my customs experience, and feel a little better about life.