...And We're Off!
Before leaving for the airport Friday before last, the view out my Brooklyn window looked something like this: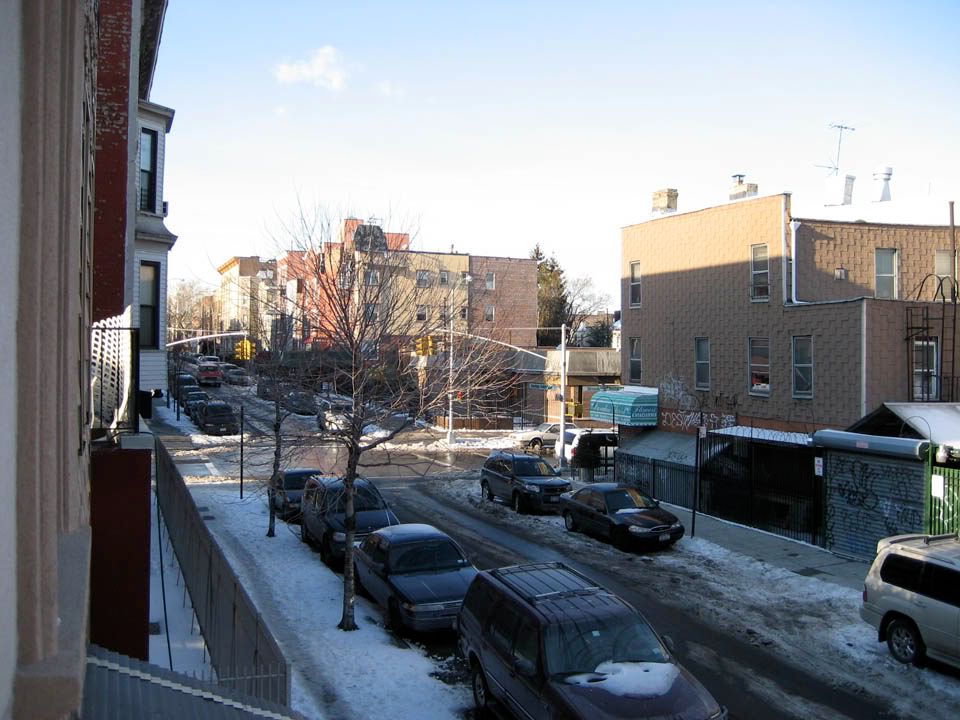 Upon arriving in LA on Saturday morning, the scene on the roof of our hotel looked something like this: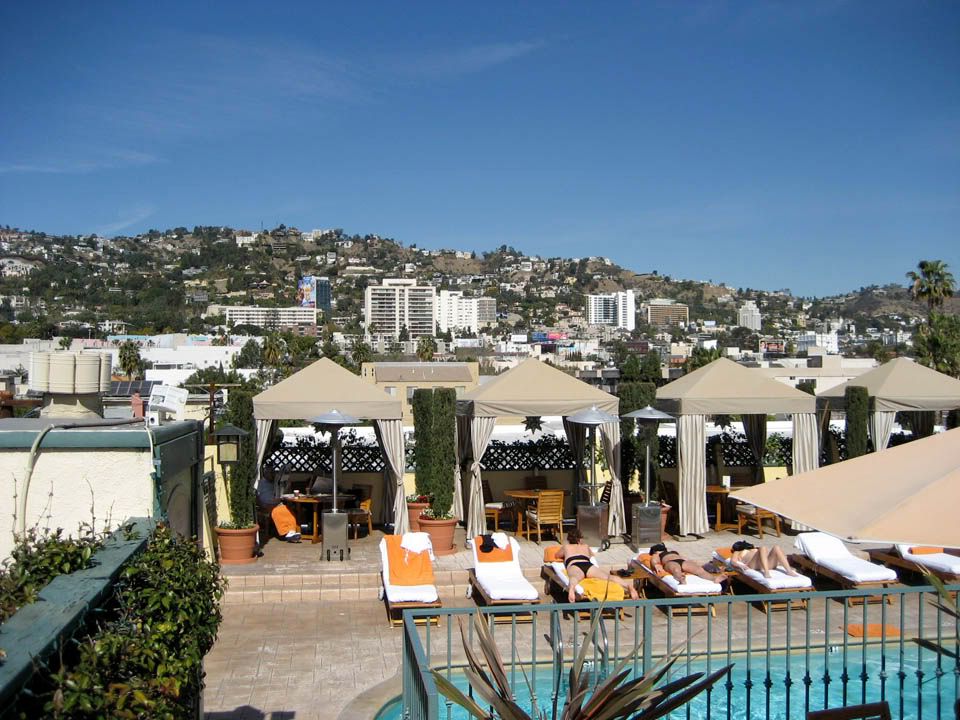 Now, it's about a week later, and we've completed five days of rehearsals plus the first two shows of the tour. I can't say I miss the New York weather; the coldest it's been since arrival has probably been 55... in the middle of the night. It was a bit of a rocky start with respect to travels. Those of us in the New York area were supposed to have a Thursday evening flight out to LA on the 15th, but the ice storm seemed to have other plans for us. The flight was canceled, and the solution which got us to LA the soonest involved flying to Washington, DC on Sunday night (Reagan), then flying out of DC at 8:00 am Saturday morning (Dulles) to LA. Nothing like staying in an airport hotel for the night, waking up at six in the morning, then heading out to the west coast, gaining three hours in the process.

Yeah, it was a little tiring for the first couple days, but full recovery was attained soon enough. Sometimes I think that getting over jet lag is better achieved by —

Whoa. Time out. So here's the story for everything above. I started this posting about two days after we got to LA. Somewhere about halfway through, the browser crashed and I lost it. I started in on the reconstruction, but it already seemed a little stale, given the time lapse. Then, we went through one hell of an epic travel adventure courtesy of Alaska Airlines and Air Canada, an adventure that makes the first week look like vacation. The following image aptly elucidates the experience: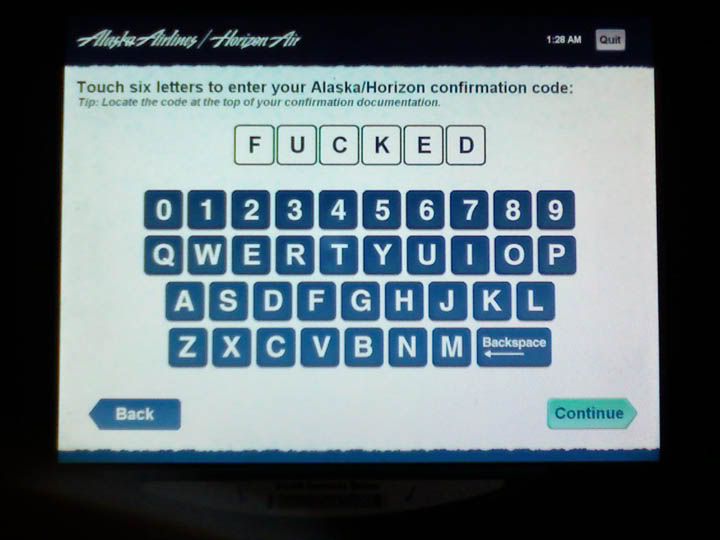 I'll try to reconstruct the timeline as best I can, despite the blur of it all:



Monday, 2:00 pm

— Board the tour bus and leave Indio, CA. The plan is to drive to LAX, catch an evening flight to Seattle, then a puddle jumper to Victoria, arriving at midnight.



4:00 pm

— Find out that our evening flight to Seattle has been delayed while crawling along I-10. Debate ensues about whether or not to stay in LA for the night, or head up to Seattle and gamble on catching the next flight. We end up going to the airport.



5:00 pm

— Arrive at the airport. Wait for over an hour while our bags are tagged first for Seattle, and then, optimistically, for Victoria.



6:30 pm

— To the bar! Tequila and beer and a bratwurst that gave me one of the worst cases of heartburn ever. Of course it had nothing to do with the booze...



10:00 pm

— Finally board our plane to Seattle, which has been continually delayed every half hour or so. It's clear at this point that we're not going to be sleeping in Victoria when we finally lay down our heads.



Tuesday, 12:00 am

— Arrive at Sea-Tac airport. The Victoria flight is long gone. Our only options for the band are a 7:30 am flight, or a 10:17; we opt for the latter. At this point, we have two options: head over to the airport Marriott right away with only our carry-ons, or wait at least an hour for our bags. Due to necessity, we wait for our bags. (It is during this exhausted, frustrating waiting period that the above image was captured...)



2:00 am

— Arrive at the Marriott. Most of us end up watching

Pulp Fiction

to its conclusion, getting to sleep around 3:30 or 4. I would've been out at 2:05 had it not been for said heartburn.



7:30 am

— Wake-up call!



8:00 am

— Head over to the airport. Yeah, we're all dead tired and loopy, but we're supposed to land in Victoria well before noon, so we grin and bear it.



9:45 am

— This is where the shit really hits the propeller, and spacetime starts to contort. It is announced that our 10:17 flight has been delayed due to mechanical issues. Collective groan ensues, and we exchange knowing, diminishing-sanity glances. Sure enough, the turboprop of our puddle-jumper is cracked wide open and besieged by several wrench-wielding ground monkeys.



10:05 am

— Our friendly neighborhood gate attendant announces that the flight has been canceled. We react with a round of further-dimished-sanity laughter, and he stares at us nervously as he continues with his monologue. He mentions that they may be able to get us another plane, and so we shouldn't rebook our flights right away.



10:10 am

— THERE IS NO OTHER PLANE. We briefly consider rushing the gate desk, snatching the announcer, and offering him up as a sacrifice to the gods of airborne travel, then snap out of it. He informs us that there are no open seats on any other direct Victoria flights that day, and that our best option is to rebook on another airline (Air Canada) with an itinerary that would fly us first to Vancouver and then to Victoria. More laughter. And this is when I begin to be very thankful for tour managers.



11:00 am

— All nine of us are booked and supposedly confirmed on a 12:40 flight to Vancouver and a 4:00 flight to Victoria. Things are looking up. Because it's another airline, we have to retrieve our luggage, recheck it at the ticket counter, then go through security once again. Because of the re-booking, we've all been "quad-S'ed," which basically means that ssssecurity gets to sssscrew us even more. Joy! They also tell us something about what we have to do with our luggage when we go through customs, and none of us really understand.



12:40ish pm

— It gets hazy here. We're definitely not laughing anymore, and I think the Vancouver flight was delayed. I'm not sure by how much though. At this point, I can't even remember what the gate looked like. But eventually, we get on the plane and it leaves.



2:00ish pm

— Land in Vancouver, go through customs, and try to retrieve our luggage (second time that day). Surprise! Seven of us, including myself, are without our baggage. There wasn't enough room on our flight, and the rest of it *should* arrive later that day. I go to check in for the Victoria flight, assisted by a canuckishly dry-humoured gate attendant. When I swipe my passport and I don't come up on the Victoria reservation, he asks if I bought my passport in China. On a normal day, I'd play along, but this time, I dryly assure him that it was issued in Chicago. A couple minutes later, I learn that I am not confirmed on the Victoria flight as we'd been assured, but waitlisted, along with one of the other band members.



3:00 pm

— Go through security for the third time that day, and head to the gate. We explain our situation to the gate attendant, who turns out to be a Meat fan. We mention that if he manages to pull some strings for us, we could pull some strings and get him tickets for the Vancouver show. He is hopeful. Luckily, there's a bar within about 50 feet of the gate — gotta hand it to them Canadians! I order a Molson, then another, and another. Somewhere into the second, the attendant comes over with two tickets; we finally relax.



4:00 pm

— We board the plane, and it takes off. One great thing about small planes and small airports is that it takes about five minutes to get from the gate to the runway and vice versa, so we're soon in the air. The flight itself is only about 20 minutes long, and it's absolutely beautiful.





5:45 pm

— Arrival! Over 27 hours after leaving Indio, CA, we're finally at our hotel, only 17 hours late. ML treats us to drinks and dinner, and we collapse immediately thereafter.



* * * * * * * * * *


Now we're in Vancouver, I'm at the venue, and we hit the stage in a little over an hour. Tomorrow morning, we're off for Edmonton, Alberta. Everyone is praying that we crammed all the airline-related mishaps into the first day, and that the next couple weeks go off without a hitch...