Salt-Crust Fish and Cement Siding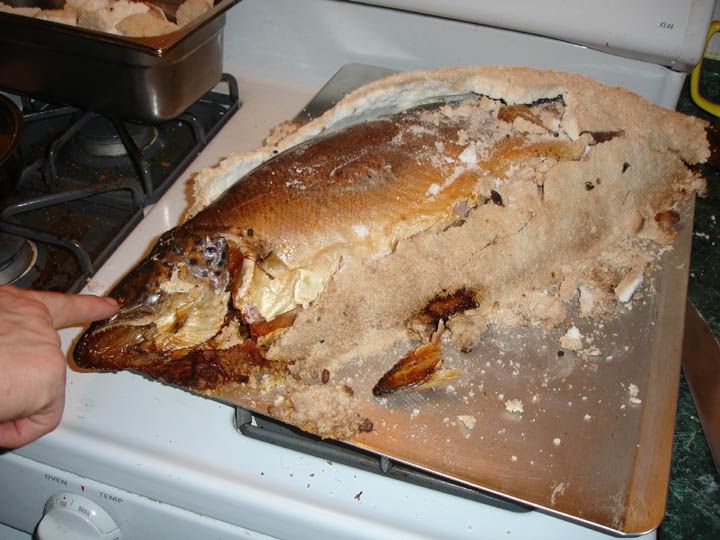 Oh my god! Someone sealed a fish in styrofoam, baked it for a couple hours, and now we're supposed to eat it? If you say so...

Luckily, you're not looking at a fish in a styrofoam shell, but a freshly baked, salt-crusted salmon, one of the newest additions to my list of Things That Rock (along with Samurai Kittens and "Cake"). Sunday night evening brought several of us together in for a celebration in honor of my roommate Adam's new job/wake to honor the passing of a four-week, involuntary vacation. The centerpiece of this event was a fresh, 10-pound salmon. It's a crazy process, salt-crusting and baking a sucker like that. The salt – about five pounds of it – is mixed with egg whites and water and spices, then used to form an inch-thick encasement around the fish, which cavity is filled with lemongrass and ginger and garlic and peppers and other tasty bits. Over the course of many minutes in the oven, the salt pack congeals into a solid crust, which flavors the fish and seals in all the juicy goodness. Upon completion, it must be the broken up by solid smacks with the back of a knife, and removed in formidable chunks. Result: the tastiest, most savory salmon I have had to date. Thank god we could still appreciate it after several straight hours of mussels, risotto, Yellowtail, Pussy-foot, and Brouczech.

Sunday night also marked the final night of my papa's stay in the city, and I would say he melded extremely well with the younger generation. Each time he visits, I try to pull him deeper into the New York fray. First time, it was a hotel in Midtown, a Broadway show, nice dinners at standard restaurants, and Starbucks. This time, he stayed in the village, caught some Sex Mob at Tonic, swilled Polish/Slavic brews with Team Greenpoint, and found an independent coffee shop (just one trip to Starbucks, and then only 'cause the other one wasn't open at 7am on a Saturday!). Maybe in a couple years, he'll be staying at the Greenpoint Hotel, hitting record stores in East New York, and checking out multi-media loft performances featuring lots of naked dancers, someone playing a live lobster with a toothbrush, and 25-ft projections of dog poo.

Eight days now, and my building is still a construction zone. Two to three days? Sure. They've been covering the layer of styrofoam with cement, which strikes me as somewhat odd. Did they come by thinking they were going to redo the sidewalk, and then come up with an expedient answer to the question, "Well, what are we gonna DO with all of this stuff?" (Or more accurately: "
Co miał my robi z całą tą materią?
") So very strange. Is this standard practice, to put up two inches of styrofoam sheet, styrofoam molding around the windows and doors, then encase it in a protective crust (oooh, theme of the week!)?? If anyone has any insight to this practice, please pipe up.

Strangeness aside, it already looks better than the old stuff.

And for those who are clinically depressed from reading about how our messianic president is definitely NOT working on plans for an invasion of Iran (speaking of people who should be crusted with salt and baked in an oven), check out the April 10th issue of the

New Yorker

, where you will find a side-splitting article by George Saunders entitled "Nostalgia." Said article can be found here, although I don't know for how long.

Happy Tuesday!