It's A Bus!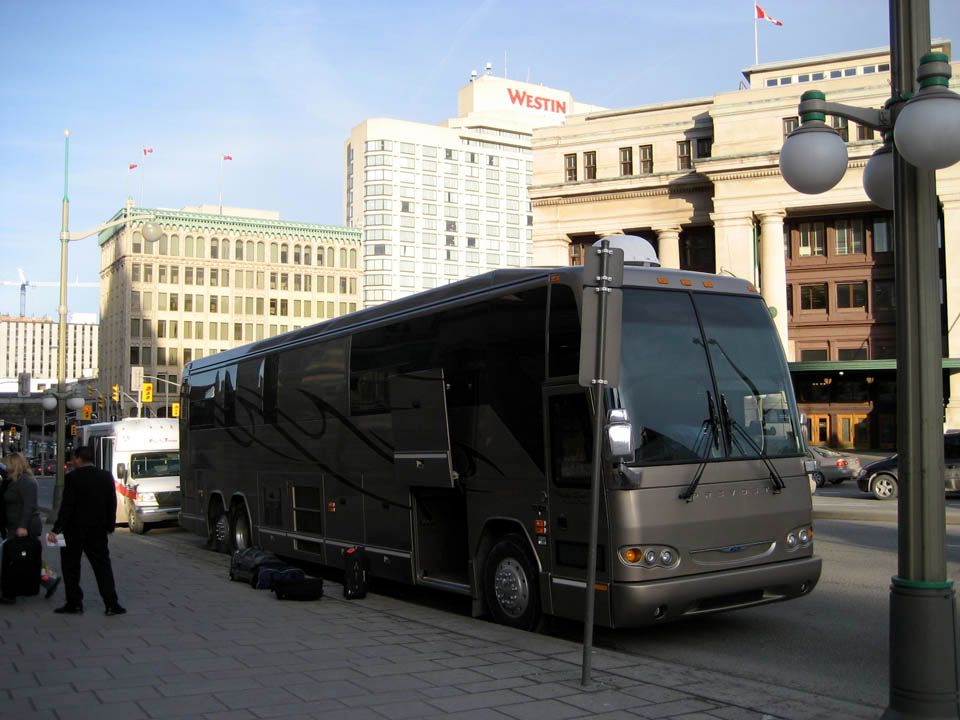 After several weeks of continually checking and reclaiming baggage, going through security, wondering how hard they'll have to stick the landing this time, watching portions of in-flight movies, breathing everyone else's germs, and attempting to adapt swiftly to divergent climes, we finally have our very own tour bus. As yet unnamed, she's pictured above after her maiden voyage from Toronto to Ottawa. Our excitement is palpable; though no ones' idea of a great day commonly incorporates a 7-hour bus ride, it certainly beats the airport hustle for an equivalent trip. With two lounges, 12 bunks, plenty of edibles, satellite TV, DVD players, and (intermittent) wireless, it's kind of like hanging out in a hotel room with constantly changing scenery and a sawmill on the ground floor. Except for two more flights, we'll have her for the duration of the Canada/USA leg. Joy!

I've been told that while it may be small and there's not all that much going on, Ottawa is a beautiful city. Judgment on this matter will have to hold off until next visit; no chance for sightseeing this time around. Were I not trying to recover from a very low-level head cold, I would have taken the usual explorative run, but given the sub-freezing temps I opted instead for the treadmill. Nearly took one hell of a spill, too, when I stepped on the side rail while trying to plug in my headphones. If asked, the dour spirit of the gym needed a little lift, which I attempted to provide...

It is worth mentioning that Ottawa provided the best breakfast spot since Victoria, a place named Cora's right downtown on the main drag, some French-sounding street that begins with an R. Though it may seem a banal detail, a good breakfast spot is a critical component of whatever routine I'm settling into, which goes as follows: wake up, stretch out and watch news, run (usually), walk around and find a fitting spot for breakfast, hang for a bit and read, then find a coffee shop before A) going to sound check, or B) leaving. Breakfast carries as much importance as dinner, maybe more so, and I haven't been completely satisfied in my quest for a good spot since the west coast. Some have suggested that such a search is automatically rendered futile by a time of, say, one or two in the afternoon, but I beg to differ.

Given a schedule such as ours, I've noticed that days and weeks dissolve into monochrome fudge. Dates and content-du-jour bear more meaning than Monday or Tuesday. Likelihood of performance or travel on any day of the week is equal. On a number of occasions, I and others have had to dedicate a substantial portion of brainpower to the act of remembering what day it is. This morning, I completely forgot it was Saturday until I reached Cora's around noon and found a mob of hungry brunchers waiting ahead of me. Knowing full well that the bus wouldn't wait around just out of respect of my desire for a hearty sit-down breakfast, I opted for a bacon, egg, and cheese on a bagel at a shop around the corner.

New York City has the best bacon, egg, and cheese on a bagel in the whole fucking world. This is the thought that I couldn't help thinking whilst chewing away this morning. Though careful not to let such thoughts snowball out of control, I let out a little line...

Yeah, I miss New York quite a bit, whether it's the bacon, egg, and cheeses, hanging with the crew for a Sunday dinner, spinning records at Matchless, regular gigs, heading to usual haunts for shows, or just soaking in the neighborhood. As of yesterday, we've officially been gone for a month, so I figure I'm perfectly justified in missing the city. Being away makes it so crystal clear that over the three and a half years I've been living in the city, it has become home; we've developed a complex relationship of love, comfort, frustration, inspiration, and a whole bunch of other stuff. Transient relationships on the road fuel exhaustion in an around-the-back manner; they go terminal as soon as the surface has been scratched, whether with person or place — all the more pronounced at our pace. I sense that the challenge here is to develop an ostensibly paradoxical relationship, to embrace the transience for what it and only it can be.

We'll see what unfolds, but for now, I'm just happy to have a bus.