10 Days Deep In D-Land
I've come to the realization that the number one sonic indication of being in Europe is the siren, the one with two repeating tones about a fourth apart. Sure, there are the language variations, but once you get a bunch of people talking at once, it sounds pretty much the same wherever you are. But if you're sitting on a rooftop, taking in the ambient runoff, it all comes down to the sirens.

We're just over a week into the German portion of our adventure, and having ourselves a grand ole time. The weather has been largely cooperative, blessing us with warm, sunny, early-summer days on the days off, and saving the rain for travel days. Given the time passed since the last posting of marked consideration and the volume of pictures taken since, I think the best way to do this one would be a show-and-tell. And thus...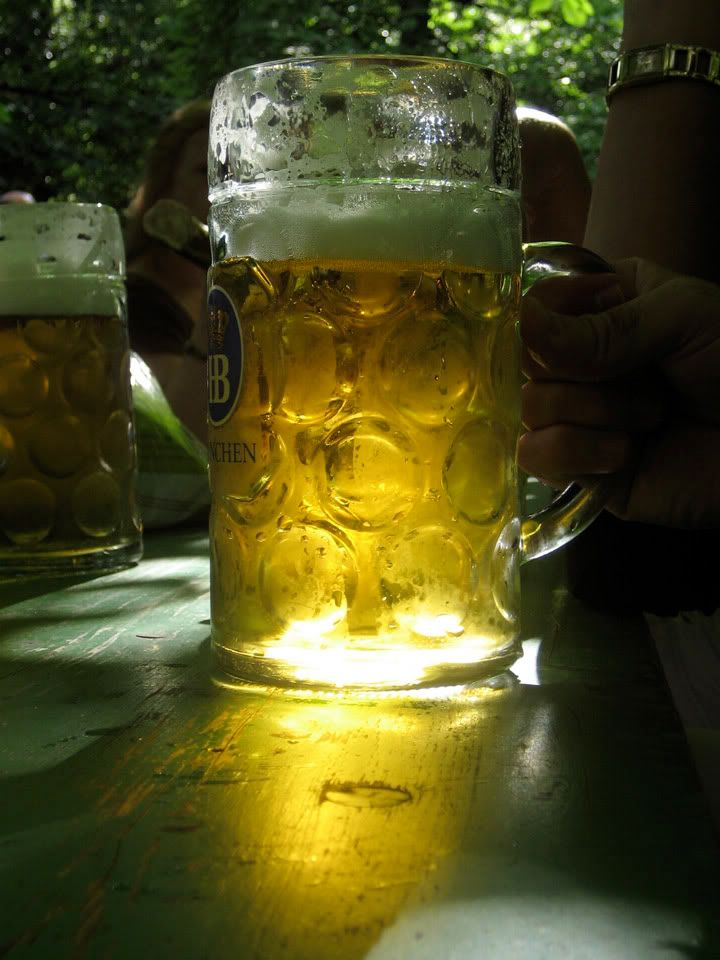 Is there a better way to kick off a show-and-tell about Germany, especially after having spent a few days in Munich, the beer drinking capital of the world? I think not. It is mighty dee-licious over here, but don't worry, I'm still standing.

But before jumping into Munich, which shall constitute the bulk of this posting, we must first return to the early days of Deutschland, our stay in Hamburg. It would be my luck that I left my camera on the bus and didn't have it for the two days off. A shame, as there are some beautiful parts of the city which would've made for excellent visuals. I'll have to rely instead on flowery, descriptive language and this map. On the morning of my first free day, I went for a run around the Alster, a mid-sized lake near the center of town. It was a Sunday, perfect weather, surface dotted with sailboats and shores specked with sunbathers, greens and blues saturated to the limits. No one was quite sure about its circumference; I clocked it to be around 10k. About halfway around, I figured out that drinking fountains don't exist in Germany, which made for a damn ragged half hour of running back to the hotel. No lasting damage done, though.

In some respects, it's nice to have forgotten one's camera from time to time. I think we can be a little too obsessive about documentation, so much so that we forget to roll up the sleeves and really dig in. * This particularly struck me when our band went to a Justin Timberlake concert in Manchester last month. We were sitting fairly high up in the stands, and when JT came on stage, all you could see from our seats to the stage was a sea of LCD monitors on cameras and cell phones. It seemed that just about everyone was more concerned with capturing that moment on "film" than with actually living it. Funny, but a little pathetic too. And so, although I don't have anything to show you from the Hamburg days, I don't feel all that bad about it. The pictures in my head are as vivid as ever.

During the epic Alster circumnavigation, I picked out a couple spots that I thought would be well-suited for some outdoor music. For the most part, the distance between shore and road is fairly short, allowing for some trees and grass and a pathway. One stretch in particular along the northern shore expands into a generous swath of grass for a good quarter of a mile. This location I settled on, and returned in late afternoon, saxophone in tow. It would be difficult to find a better spot: comfortably couched between the shore and pathway, shaded by a willow, a bench to lean against, late afternoon sun streaming through the branches, plenty of space for people to listen at their desired level of intensity. One of the cool things I've noticed is that after about 30 minutes to an hour of playing, those in the immediate surroundings are there because they like the music. Sure, some people might leave, but some stay and more arrive. It's a subtle, entropic take on performance, and I rather like it.

As much as the weather and surroundings made my day, so did the locals — in particular, two girls sunning themselves about 100 paces away from where I'd set up camp. One walked up almost immediately to throw some money in the case, and then both returned an hour later with a plate of pineapple. I played a few more tunes, including a couple of their requests, then joined them on their blanket for some evening sun, silliness, and conversation (in English and German). ** When the sun retreated finally behind the trees, we found a cafe on the Alster and had some late evening dinner and ice cream, bringing to a conclusion a perfect day. Fortunately, we met up several more times during the next few days for some Hamburg exploration, laughs, and German lessons. I'll be forever grateful!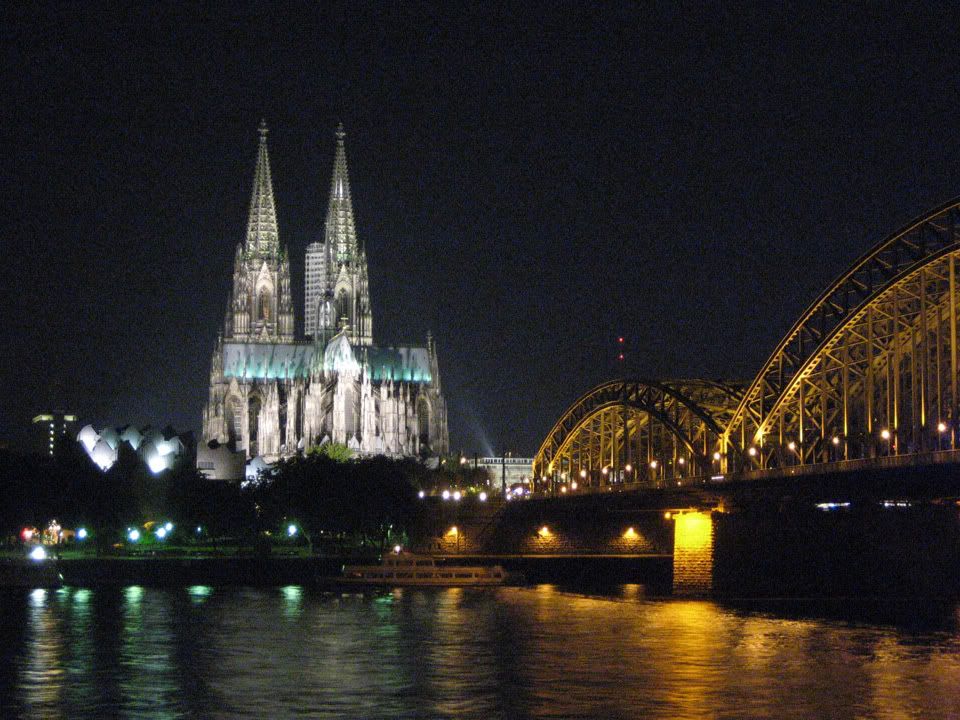 Our stay in Cologne was brief in comparison to Hamburg, lasting only two nights and one full day, on which we had our show. We stayed directly across the river from the Cologne Cathedral, quite the impressive sight, day or night. Encumbered by rain, I only had time for a jog and about an hour of poking around the old town section along the river. I don't feel that I discovered all that much: the old town section is filled with touristy beer n' brat bars and restaurants, and lies adjacent to ye olde generic shopping street. Perfect if one can happily describe seeing Cologne as drinking a Kölsch, buying a t-shirt at H&M, and peeking at a cathedral, but I think I'll have to give it another look-around someday.

It is now evident that the posting will have to be concluded in a Part II, as it's a few minutes shy of bus-time. I'll leave you with a taste of things to come, which things will likely come swiftly as pictures instead of words will constitute the bulk.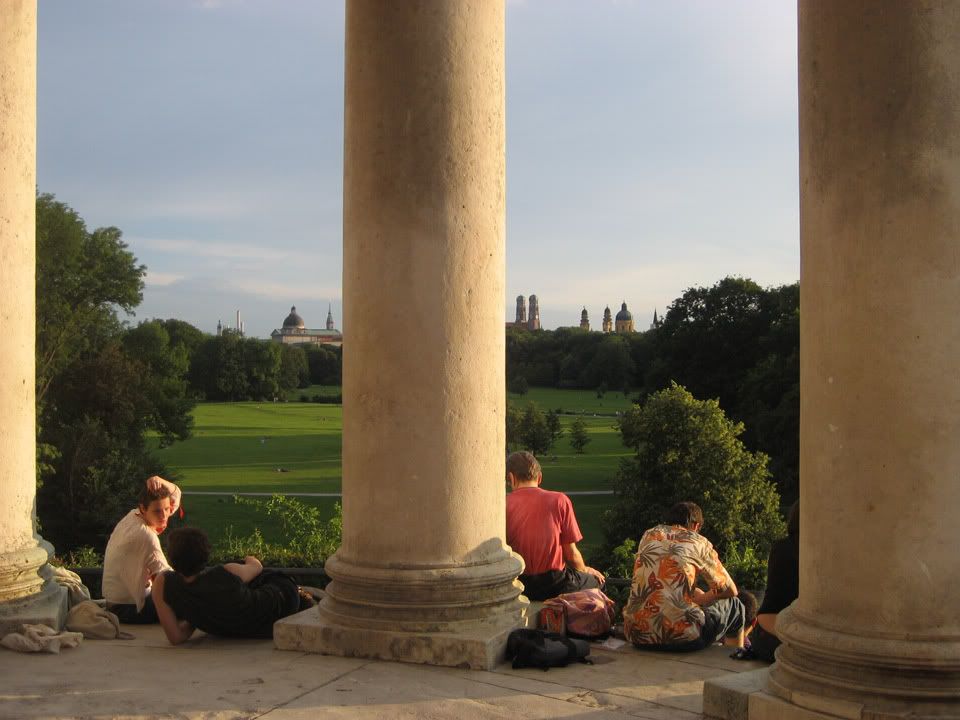 And now for a mad dash through the rain... 3... 2... 1...

* Walker Percy has an essay in

Message In The Bottle

that really got me thinking about this almost 10 years ago. I don't remember the exact name and the book is in Brooklyn, but if anyone is interested, I can dig it up.

** Note to self: never provoke two girls with brothers, lest one be ganged up on and tickled to death. But then, were I able to choose the method of my demise...