The Tour Endures
Blah blah apologies for not writing in a while blah blah blah. What's the use? It won't magically manifest over a month's worth of unwritten postings, so it's best we all just accept it.

"We," of course, being me and the three or four other people out there who either have an RSS feed hooked up or obsessively check for new postings every couple hours or so. Sigh. I would love to have one of those blogs with a thriving variety of readers who comment and pass along to their friends and such, but I do realize that in addition to providing (semi-)stellar content, one must post regularly. Maybe one year I'll catch onto the latter.

Anyways, right now I'm here: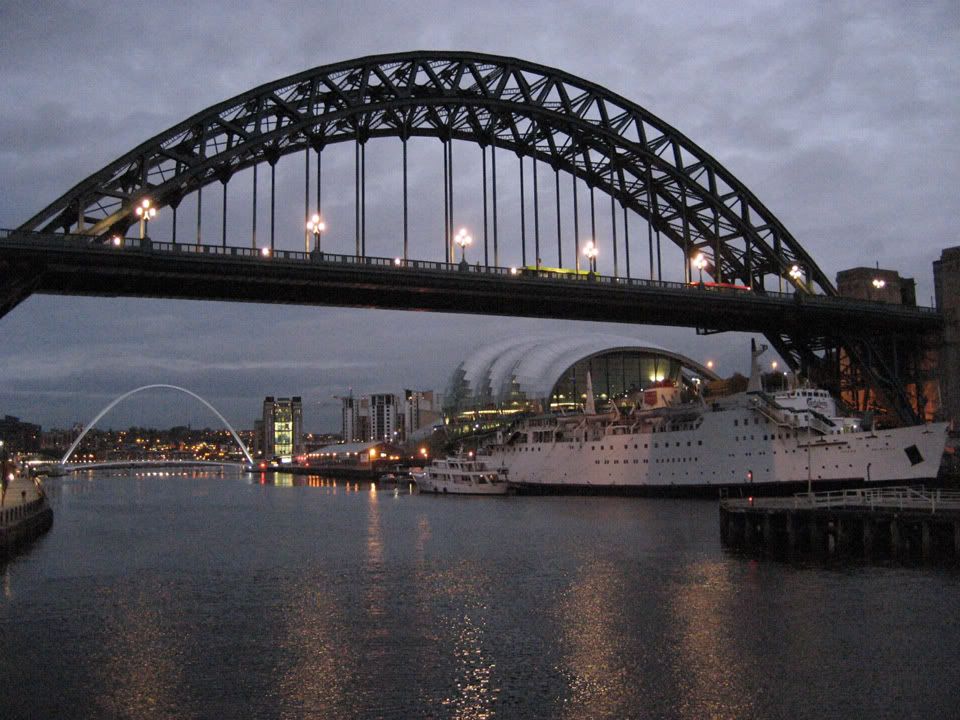 ...meaning Newcastle, UK, famous in my mind for a certain brown ale in a clear bottle, impossibly tiny mini-skirts, and the tendency for those wearing said minis to decorate the streets with the contents of their stomachs. Such is the reputation, and a friend of mine, a native "Geordie," has just warned me, "...whatever you do, DON'T GO TO THE BIGG MARKET! ... because it's full of all the worst geordie stereotypes, aggressive, drunk people having sex and throwing up everywhere." And so it seems that every reputation generates from a point of reasonable objectivity, but to ascribe this value to the entire town would probably be something like considering Manhattan as nothing more than a giant Meatpacking District. In its defense, Newcastle appears to be a great place to walk around with many pedestrian streets and a lovely path along the river, plus there are a handful of Very Old Things (castles and churches and such) to which one has a surprising degree of access. Plus I found an awesome cafe with great coffee and breakfast, excellent music,* free internet, and even a theatre upstairs: Amber Side Cafe — oh, and a £2.50 special on Bowmore Dark Whisky. It rocks, go there. I can think of many worse places to have a day off. (cough cough Cleveland)

Blah blah shitty dollar blah pound and euro win blah blah. But really... $100 buys only £46!? Ouch. And it's painful to think that the practical rate for the euro ($1.50/€1) would have been about what is was for the pound around 2000. Thanks for lookin' out, Bush. You're a real winner. As one of our bandmates has taken to saying, we're getting the GWB-KY exchange. About sums it up. I never thought I'd live in a time where one dollar Canadian would buy you $1.05.

Before this was Glasgow. In a strange twist of fate, it was actually warmer there this time than it was when we passed through in early June. Go figure. There's no better way to kick off a run in the UK, though, than with a show in Glasgow. God bless the Glaswegians, they know how to throw down and party.

Glasgow on a Saturday-night-preceding-Halloween, though, rides that fine line between frightening and fascinating. A spectacle indeed, in any case. Women (and men) ranging from slinky to swarthy, dressed in all imaginable outfits, assets on display no matter their value. In fact, it was quite a bit like Halloween last year, except colder, windier, and more vomit. I was warned not to go out alone unless I was actively seeking my first taste of a Scottish kiss...

And before that, autumn in Germany:



This one was taken whilst running through Leipzig's central park. I absolutely love the tree on the right. It's fuzzy! Never seen anything like it before; I'm not even sure if it's deciduous or evergreen. Must be an alien colony. But the best display of autumn colors (Herbstfarbe), in my humble opinion, was found in Mannheim along the canal they have there. Too bad I went running without taking my camera. Sigh again. Your loss.

In addition to Leipzig, we played shows in Dortmund, Nuremberg, Mannheim, and Bremen to finish off the German leg. Bremen's Christmas market was operating in full effect, and there I enjoyed my first taste of glühwein. Several times. Also purchased: Flammkuchen (yum) and an amazing blown-glass dragon which doubles as an oil lamp. How the latter will get back to the States is a problem to be addressed at the moment of utmost necessity, and no sooner.

The venue for our show in Nuremberg happened to be directly adjacent to the famous Zeppelin Field on the Nazi Party Rally Grounds. We've all seen the video clip countless times on the History Channel where the swastika atop the grandstand is blown to bits several days after the fall of Nuremberg, or footage of Hitler addressing a swarm of soldiers and citizens. Witnessing the creepy, gray power of Albert Speer's architecture directly, though, takes it to another dimension.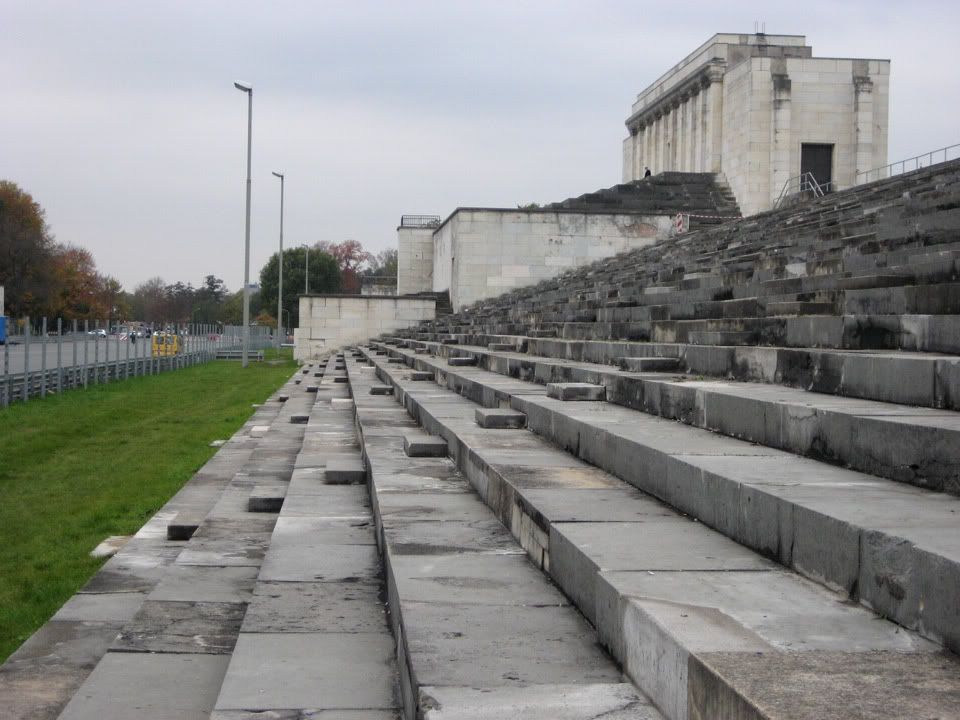 My walk over and around this monument ranks among the most unsettling experiences-of-place in my life. It deserves its own separate posting, though at best it may earn a Flickr set or portion thereof.

Before the tour began, I spent a few days in Hamburg, and actually remembered to bring my camera this time when wandering around the Alster. One of many pictures taken: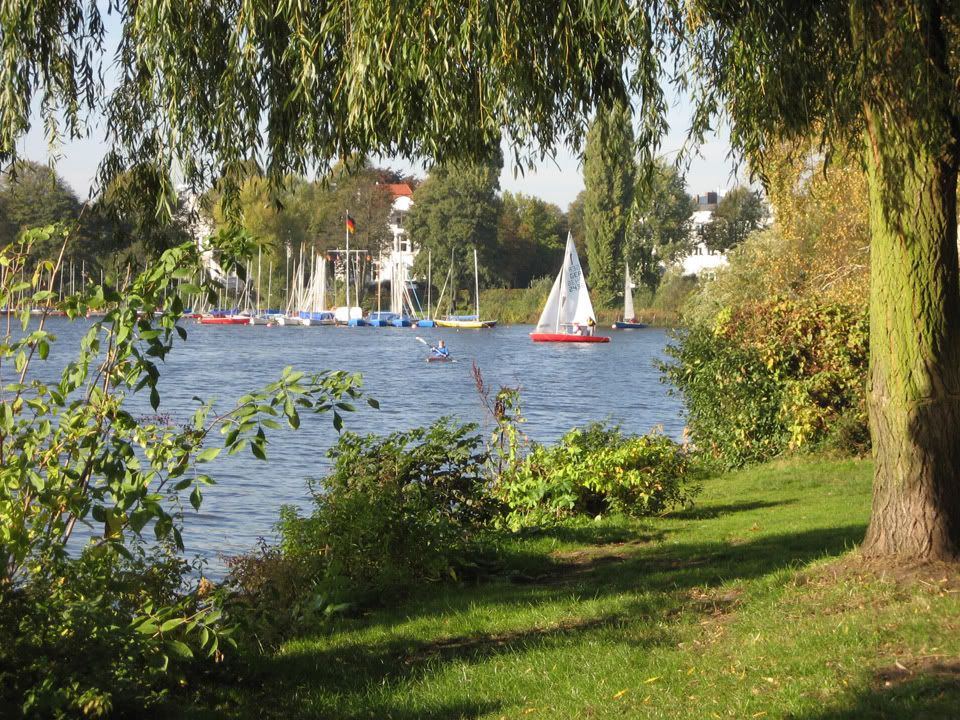 The best of the batch will appear in a Flickr set sometime in the near future, mark my word. Honest!

Speaking of Flickr sets, I did post quite a large one from Stoke-on-Trent, UK a couple weeks ago. A quick taste:



In early October, we spent a few days there to play (believe it or not) a private gig for a very wealthy man. Stokey isn't the most exciting or beautiful city in the UK, but its south and west sides are wrapped by the Trent and Mersey and Caldon Canals. A stroll along their towpaths proved to be beautiful and relaxing, speckled here and there with bits of visual treats. Enough so that I spent the larger parts of three afternoons there, walking along with camera in hand. Enjoy the pictures!

And with that, I think we're more or less up to date. Now, a few more relaxing minutes in this-here cafe, a jog along the Tyne, and then off to the venue for our Newcastle show. With a goal of consistency in mind, more later...



* Right now, "Across 110th St." by Bobby Womack. Earlier, Gillian Welch, Rufus Wainright, Jeff Buckley, The Doors, among others. I'll forgive the Donovan.